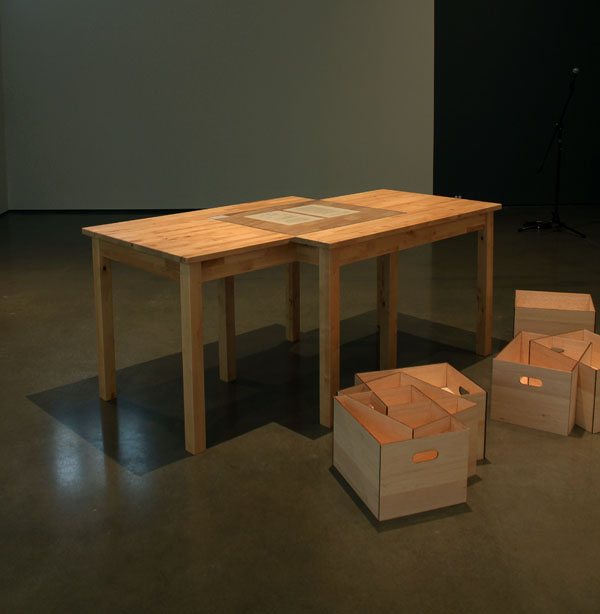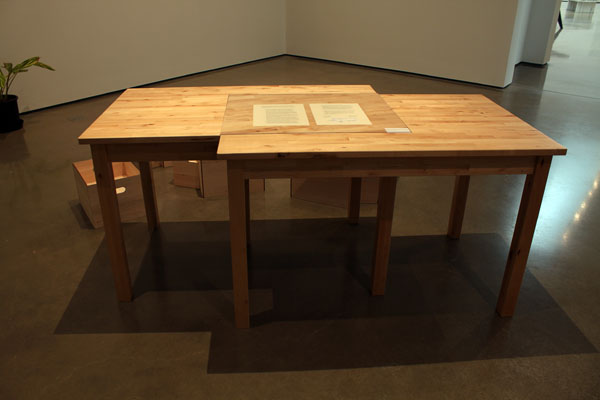 Binocular Table, Commissioned by Cora Fisher for Persona Ficta, CCS/Hessel Museum, March 2013.
Binocular Table
, 2013, sculpture, two intersecting tables This piece is presented in the gallery in relation to Lucas's
Refresh (2007)
documentation, and
File Boxes (2013)
. For the Persona Ficta exhibition, this sculpture doubles as a display for Tania Bruguera and Jota Castro's collaborative project, "The Marseilles Agreement". Bruguera and Castro signed a notarial agreement establishing that when one of them dies, the survivor will make a performance with the dead body of the deceased. The piece may exist in several forms: a legal contract, a public presentation with a question and answer period and the future performance as the result of the collaboration.
The Marseille Agreement
blurs the limits between art and life, an individual contingency in which the body is offered as a repository of art. Art is created and made after death itself. The body of the artist becomes an object of the public sphere.
home